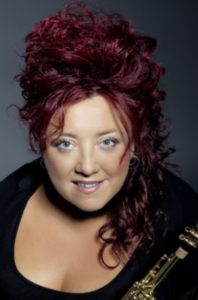 Lisa Tulk (website) studied Saxophone and Piano at the Royal Northern College of music where she graduated with BMusHons and also a Professional Performance award. During her time there she studied with some of the worlds most renowned musicians and conductors. She has been working as a professional musician and teacher for almost twenty years. Lisa has been lucky enough to perform at some of the countries most prestigious concert halls and broadcast on several occasions for BBC radio. Most recently she performed at the Manchester jazz festival.
For the majority of her career she has enjoyed teaching a wide variety of instruments and ensembles. Lisa performs regularly as a saxophonist, pianist and vocalist, performing and recording regularly. She also is a composer and arranger. She performs regularly with guitar as part of a jazz fusion duo, the New Skin Project. She has always had a love of singing and has sang her whole life. In recent years she began to train seriously and has dabbled in some opera fulfilling a long standing ambition. She now performs regularly as the vocalist with the acoustic duo Meraki.
Her work with choirs began when she was asked to become choir director for the East Cheshire trust NHS staff choir. It was there that her love of leading and directing choirs began. She is a passionate and enthusiastic leader, constantly encouraging the best out of her choirs as they grow and evolve. Her skill as an arranger is what gives the Voice to Voice choirs their unique sound and style.
Lisa directs corporate "Sing Days" as part of team building exercises, to promote Well Being in the work place and group bonding. If you are interested in this for your business please do get in touch. The results are always rewarding and outstanding!!